Programs and Events
Halloween Party October 22nd
Come out and join your neighbours for a Halloween Party October 22nd from 5 to 9 PM.
Costume contest, pumpkin carving, spooky treats, drinks, crafts, games and activities.
Supper from from 6 PM to 7 PM
Under 3 is free
Ages 4 to 6 is $5
Ages 7 to 13 $10
Ages 14 plus $13
**Supper included in price
Tickets must be bought in ADVANCE via
Eventbrite
or RSVP to Janet from Oct 3 to 17 at 587-340-3024.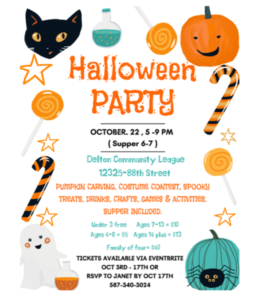 Family Fun Celebration
The Delton Community League is hosting a fun event for the whole family. There will be wagon rides, ice skating, singing, indigiHaus drag, and winter arts and crafts. Hot dogs and hot cocoa will also be available.
Join us to celebrate family and meet your Delton neighbours.
Sunday, February 20th 11:00AM to 3:00PM
2022 Outdoor Soccer
Registration for the 2022 outdoor soccer is open until March 18th. Click HERE to register. If you have any questions, please contact Laura Cassady at soccer@deltoncommunity.com
Annual Events
Family Day on the Sunday prior to the holiday
Annual Membership every third Saturday in September
Monday
Tuesday
Wednesday
Thursday
Friday
Saturday
Sunday

1

2

3

4

5

6

7

8

9

10

11

12

13

14

15

16

17

18

19

20

21

22

23

24

25

26

27

28

29

30

31